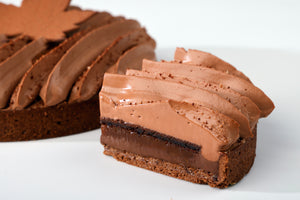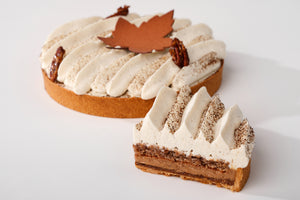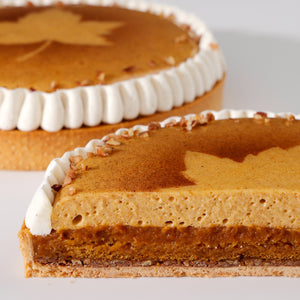 The bottom of our pecan tart is a crisp vanilla sable topped with a pecan crunch.  In the shell sits a delectable pecan sponge, pecan cremeux and the creamiest whipped vanilla panna cotta.  Topped off with a festive chocolate maple leaf.
Thanksgiving Chocolate Tart

Our mouth watering chocolate sponge is paired with a burnt caramel and dark chocolate cremeux.  The hazelnut crunchy is perfect with the chocolate sable crust and whipped chocolate ganache.  Each layer is chocolate perfection.  Also topped off with a chocolate maple leaf.
Thanksgiving Pumpkin Tart
New this year we've created the perfect addition to your Thanksgiving feast.  Enjoy a delectable pumpkin sponge accompanied by a crisp pecan crunchy slightly sweetened with our pumpkin cider reduction.  This is topped off with a silky pumpkin mousse and vanilla whipped panna cotta.
Each Thanksgiving tart is 7.25 inches in diameter, it serves 6-8 people.  Pickup times will be as follows:
Tuesday, November 21st between 10 am - 5 pm
Wednesday, November 22nd between 10 am - 5p m
Thursday, November 23rd between 8 am - 11 am
We highly recommend you pre-order your Thanksgiving tart as far in advance as possible as they tend to sell out quickly.  Upon pickup please keep your pastry in a refrigerator
.