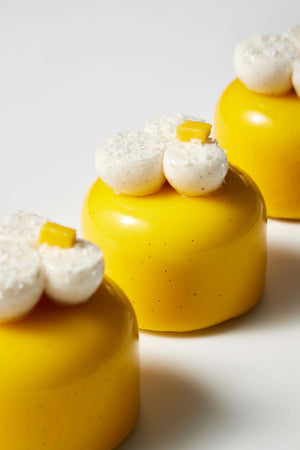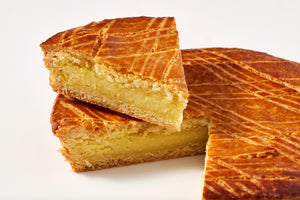 All pre-orders close at 3pm on Wednesday.  After Wednesday, all vienoisserie/pastry features are available on a first come first serve basis in-store.  Special request, question?  Email us at alexis@alafolieco.com.
Feature: Chocolate Eclair
A classic eclair, perfected. With a delicate pate a choux composition, filled with cremeux and topped with a chocolate glaze and pearls of crisp chocolate.
Our Classic Menu, Always Available

Bahia: A rich almond crunch and coconut lime dacquoise base, topped with an exotic confit and immersed in layers of silky vanilla mousse. Finished with a white chocolate glaze and a passion glaze- garnished with fresh mango.
Ocoa: This decadent dark chocolate dessert features a mirrored chocolate glaze exterior, concealing a 70% dark chocolate mousse and cremeux with a foundation of chocolate almond sponge and chocolate hazelnut crunch.
Opera: A heavenly chocolate ganache confection layered with coffee mousseline and almond jaconde sponge that's been soaked in sparrow coffee syrup.
Peanut Caramel Bar: The Peanut Bar contrasts salty and sweet, crunchy and soft- with its burnt caramel center and peanut butter hazelnut crunch base surrounded by hazelnut dacquoise, praline cremeux, and milk chocolate whip ganache.
Lemon Tart: A light filling of lemon cremeux on a delicious base of savory lemon marmalade, lemon almond sponge and vanilla almond sable crust. Glazed with lemon neutral and white chocolate mascarpone, and finished with a dollop of lemon meringue.
Gateaux Basque: This Gâteau Basque juxtaposes a crumbly shortbread crust with a creamy filling. The brittle lemon shortbread exterior is balanced with a rum almond cream. Also available as a chocolate creation, with a chocolate shortbread crust and a seductive rum chocolate almond cream.